Americký stafordšírsky teriér je stredne veľký, no mimoriadne silný a extrémne vytrvalý pes. Jeho prirodzené obranárske vlohy a odvaha sú v dokonalej súhre s láskavou, oddanou a dobrosrdečnou povahou, čo z neho robí neoceniteľného rodinného psa, všestranného pracanta či spoľahlivého strážcu majetku. Je len na vás, na čo toto plemeno využijete, prispôsobí sa takmer každému životnému štýlu. Treba však mať na pamäti, že amstaf potrebuje veľké množstvo aktivity- či už fyzickej alebo psychickej a tiež neustály kontakt so svojim pánom alebo rodinou.

História
Pôvod amerického stafordšírskeho teriéra siaha do 19. storočia a stotožňuje sa s históriou amerického pitbulteréra- v tom čase totiž tvorili jedno neustálené plemeno- americký teriér. Toto plemeno sa začalo v Amerike vyvíjať vďaka írskym prisťahovalcom, ktorí si so sebou priviedli svoje psy. Íri svoje  buldogovité a teriérovité psy krížili medzi sebou a využívali ich na lovecké účely a Američania im v procese šľachtenia pridali na hmotnosti a rozmeroch hlavy. V Amerike sa využívali ako bojové a strážne psy, ale naďalej bol využívaný aj ich silný lovecký pud na zabíjanie škodnej akou sú červené rysy a kojoty. Najväčšou atrakciou tej doby však boli potkanie, býčie a psie zápasy a americký teriér v nich vďaka svojej chuti bojovať ( tzv. game ) vytrvalosti a húževnatosti našiel perfektné uplatnenie.
Po roku 1935 sa chovatelia rozdelili na dve skupiny- tých ktorí chceli mať naďalej bojového psa, schopného a tvrdého pracanta ochotného bojovať na život a na smrť no s premenlivým exteriérom a druhá skupina, ktorá začala dbať práve na vonkajší vzhľad bez dôrazu na pracovné kvality. V tomto období sa z týchto psov selektoval americký stafordšírsky teriér ktorý zaujal postavenie skôr vo výstavných kruhoch ako v ringu a práve vďaka tomu bol už v roku 1936 uznaný Americkým klubom chovateľov psov a v roku 1972 sa dostavilo uznanie aj od medzinárodnej kynologickej organizácie FCI.
Americký stafordšírsky teriér dnes
Americký stafordšírsky teriér je plemeno uznané FCI od roku 1972. Je zaradený v 3. skupine ( Teriéry ) v sekcii 3- teriéry typu bull ,bez pracovných skúšok. Je to stredne veľký, no mohutne osvalený pes so silnou kostrou. Pohyb má elegantný a vyžaruje nesmiernu silu a rozvážnosť.
Telo má kvadratický charakter a pri pravidelnej pohybovej aktivite pôsobí až kulturistickým dojmom. Hlava je široká a klinovitá, s dobre vyjadreným stopom. Oči sú guľaté, posadené ďaleko od seba a ich farba by mala byť čo najtmavšia, no závisí od sfarbenia srsti. Čeľusť je silná a mohutná so zreteľne vystúpenými lícnymi kosťami, papuľa je guľatá,  široká. Zuby tvoria nožnicový skus. Uši sú polovztýčené, zložené do tvaru listu ruže a zvyknú sa kupírovať. Krk je krátky a silný, mohutne osvalený, plynule prechádzajúci do krátkeho rovného, mierne sa zvažujúceho chrbta. Rebrá sú klenuté, bedrá vtiahnuté. Chvost je nízko nasadený, krátky, ku koncu sa kužeľovto zužujúci. Končatiny sú rovné, pevné so širokými labami.
Srsť je krátka, tvrdá, lesklá, koža je pevne priliehajúca. Sfarbenie je povolené akékoľvek jednofarebné alebo škvrnité okrem čisto bielej.
Náročnosť a využitie
Americký stafordšírsky teriér je veľmi temperamentný pes ktorý potrebuje veľké množstvo pohybu a neustály kontakt s majiteľom či rodinou. Ideálne je zamestnať mu telo aj hlavu- je vhodný na akýkoľvek druh výcviku, obrany, pachové práce, ako spoločník alebo ako rodinný pes. Najlepšie uplatnenie nájde v silových bull športoch pre ktoré je ako stvorený. Nie je vhodný pre začínajúcich kynológov a pre neskúsených ľudí. Má sklony k tvrdohlavosti a jeho výcvik býva náročnejší, no pri správnom prístupe získate perfektne ovládateľného psa. Náročná býva aj socializácia, ktorá by mala byť dôkladná a majiteľ by mal klásť dôraz najmä na zoznamovanie psa s inými psami či zvieratami, nakoľko má silno vyvinutý lovecký pud.
Zdravie a výživa
Americký staford má pomerne pevné zdravie, no zvykne trpieť dyspláziou bedrových kĺbov, kožnými ochoreniami či alergiou. Pre perfektnú kondíciu a mohutne vyrysované svalstvo je potrebné zvoliť si správny typ stravy a doplnkov.
Pre amerického stafordšírskeho teriéra je veľmi dôležitá prirodzená pestrá strava, ktorá mu dodá všetko to, čo potrebuje aktívny pes. Najmä psy využívané na bull športy potrebujú kvalitnú a pestrú stravu, ideálne pozostávajúcu z mäsa, kostí a príloh. Práve táto strava a dostatok fyzickej aktivity zabezpečí mohutné osvalenie, pevné zdravie a perfektnú kondíciu. Surová strava takisto vo väčšej miere zabezpečí vyživovanie kĺbov a kostí, ktoré sú pri tak aktívnom a mohutnom psovi zaťažované. Jedálniček sa dá nastaviť podľa potrieb daného jedinca a výnimkou nie sú ani psy alergici, či psy s akýmikoľvek zdravotnými problémami, ktoré sa dajú liečiť alebo aspoň zmierniť vhodne skombinovanou surovou stravou, doplnkami v podobe byliniek či iných prírodných prípravkov. Surová strava má priaznivý vplyv na kondíciu, zdravie aj celkový vzhľad psa, kŕmna dávka a príjem bielkovín sa dá nastaviť podľa aktuálnych potrieb psa, výkonu či váhy.
Výhody BARFu: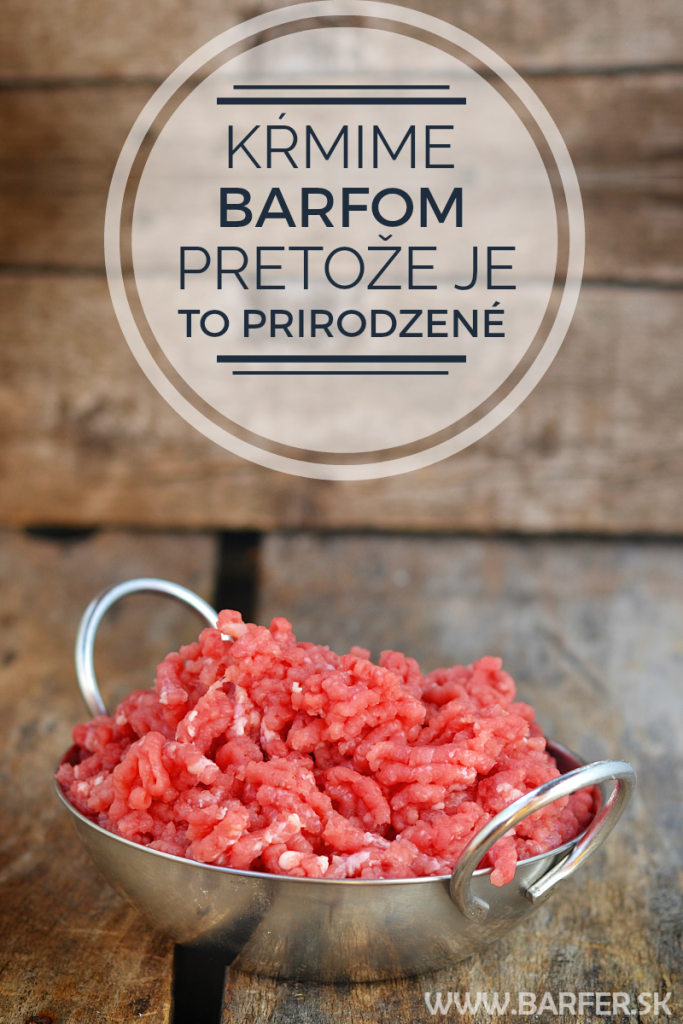 nastavenie kŕmnej dávky na mieru danému jedincovi
vďaka množstvu kvalitných prijatých bielkovín mohutné osvalenie
pevné kosti, dobre vyživené kĺby a chrupavky
vyššia imunita
lepšia kondícia
krajšia srsť a celkový vzhľad psa
prehľad o tom, čo naozaj pes dostane do misky- bez konzervantov, farbív, dochucovadiel či umelých prísad
pestrosť a kvalita stravy, ktorú môžete sami ovplyvniť
Množstvo kŕmnej dávky by malo tvoriť 2-4% ideálnej váhy psa ( váha, ktorú by pes mal v danom období mať) a 50% by malo tvoriť mäso. Kosti by mali tvoriť približne 30% kŕmnej dávky a prílohy v podobe mixovaného či strúhaného ovocia, zeleniny či obilovín zvyšných 20%.  Vhodnými doplnkami stravy sú oleje, mleté semiačka a orechy, či zakysané mliečne výrobky. Kŕmenie barfom nie je nič zložité a je to to najlepšie, čo sa dá pre zdravie psa urobiť- je však potrebné naštudovať si ako na to. Kvalitné mäso pre psy za najlepšie veľkoobchodné ceny nájdete na http://barfer.sk/ alebo http://barfslovensko.sk/25-maso-krmivo .